---
Connect to Presto from wizards and query Presto data from the GUI in the RazorSQL database management tool.
The CData JDBC Driver for Presto enables standards-based access from third-party tools, from wizards in IDEs to data management and analysis tools. This article shows how to connect to Presto using wizards in RazorSQL.
Create a JDBC Data Source for Presto Data
Open the RazorSQL application and, in the Connections menu, select Add Connection Profile -> Other -> JDBC.
In the Connection Wizard that appears, set the following properties:

Driver Location: Set this property to the path to the lib subfolder in the installation directory.
Driver Class: Set the driver class to cdata.jdbc.presto.PrestoDriver.
Username: Enter the username. (This property can also be set in the JDBC URL.)
Password: Enter the password. (This property can also be set in the JDBC URL.)

JDBC URL: Enter connection parameters. The JDBC URL begins with jdbc:presto: and is followed by a semicolon-separated list of connection properties.

Set the Server and Port connection properties to connect, in addition to any authentication properties that may be required.

To enable TLS/SSL, set UseSSL to true.

Authenticating with LDAP

In order to authenticate with LDAP, set the following connection properties:

AuthScheme: Set this to LDAP.
User: The username being authenticated with in LDAP.
Password: The password associated with the User you are authenticating against LDAP with.

Authenticating with Kerberos

In order to authenticate with KERBEROS, set the following connection properties:

AuthScheme: Set this to KERBEROS.
KerberosKDC: The Kerberos Key Distribution Center (KDC) service used to authenticate the user.
KerberosRealm: The Kerberos Realm used to authenticate the user with.
KerberosSPN: The Service Principal Name for the Kerberos Domain Controller.
KerberosKeytabFile: The Keytab file containing your pairs of Kerberos principals and encrypted keys.
User: The user who is authenticating to Kerberos.
Password: The password used to authenticate to Kerberos.

Built-in Connection String Designer

For assistance in constructing the JDBC URL, use the connection string designer built into the Presto JDBC Driver. Either double-click the JAR file or execute the jar file from the command-line.

java -jar cdata.jdbc.presto.jar

Fill in the connection properties and copy the connection string to the clipboard.

A typical JDBC URL is the following:

jdbc:presto:Server=127.0.0.1;Port=8080;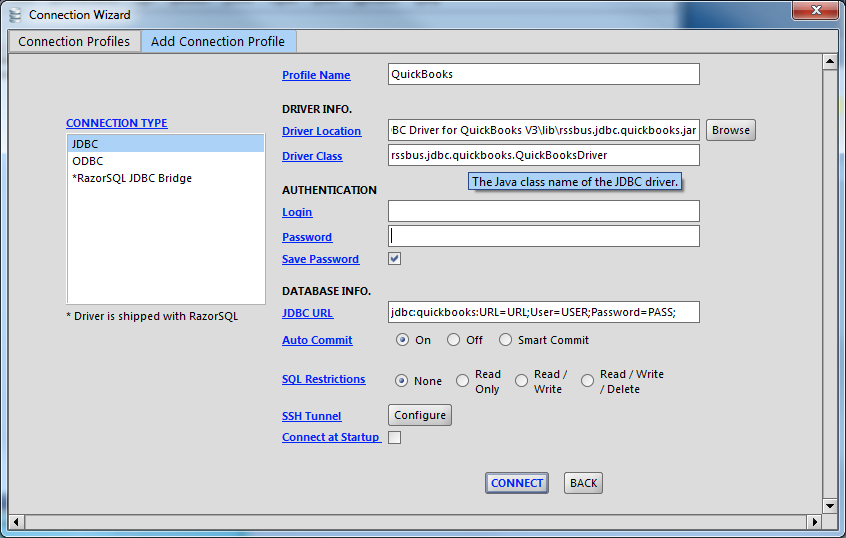 Query Presto Data and Select Tables
After establishing a connection, the wizard will close and the connection will be available in the connections panel. You can then query the tables.