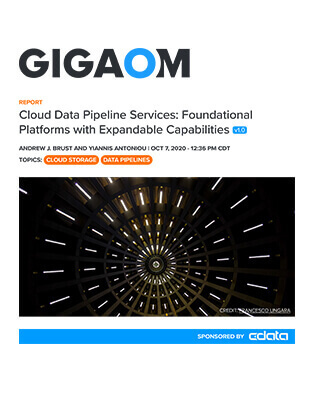 Evaluating Cloud Data Pipeline Services: Amazon AWS, Google and Microsoft
With cloud data warehouses, data lakes, databases, and SaaS-based enterprise applications, the cloud is all about data. And as soon as the subject of data comes up, you have to think about moving it, cleansing it, blending it, enhancing it, and transforming it, all on an operationalized basis. This is no small requirement; in fact, it's a rather formidable one. The good news: all three major public cloud providers - Amazon Web Services (AWS), Microsoft Azure (Azure), and Google Cloud Platform (GCP) - have excellent data pipeline services that can help deal with the unprecedented data explosion we are witnessing.
This report will review the major cloud data pipeline services from the big three providers and look at each one's commonalities and unique capabilities.
About the Author
Andrew Brust has held developer, CTO, analyst, research director and market strategist positions at organizations ranging from the City of New York and Cap Gemini to Gigaom and Datameer. He has worked with small, medium and Fortune 1000 clients in numerous industries and with software companies ranging from small ISVs to large clients like Microsoft. Andrew's resulting understanding of technology, and the way customers use it, makes his market and product analyses relevant, credible and empathetic.
Andrew has tracked the Big Data and Analytics industry since its inception, as Gigaom's Research Director and ZDNet's lead blogger for Big Data and Analytics. Andrew co-chairs Visual Studio Live!, one of the nation's longest running developer conferences. As a longtime technical author and speaker in the database field, Andrew understands today's market in the context of its longtime Enterprise underpinnings.