<! -- REQUIRED PAGE WRAPPER --><! -- BEGIN [CONTENT] -->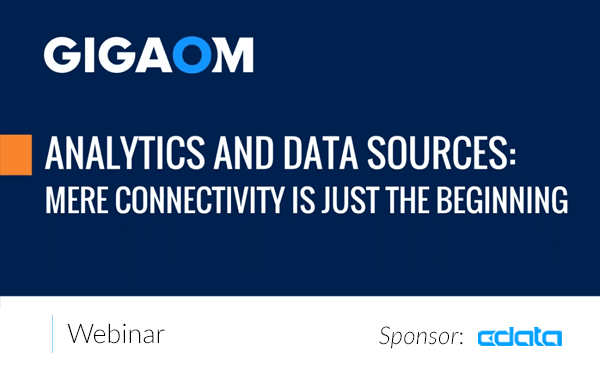 Analytics & Data Sources
FREE WEBINAR (ON-DEMAND)
In today's world of myriad data sources, simple data connectivity is just table stakes. What is essential is a data access strategy that accounts for the variety of data sources out there, including relational and NoSQL databases, file formats across storage systems — even enterprise SaaS applications — and can make them all consumable by tools and applications built for tabular data. In today's data-driven business environment, fitting omni-structured data and disparate applications into a consistent data API makes comprehensive integration, and insights, achievable.
Map Out Your Data Access Strategy
Join us for this free 1-hour webinar from GigaOm Research. The webinar features GigaOm analyst Andrew Brust and special guests, Eric Madariaga, and Tomas Restrepo, from CData Software, a leading provider of data access and connectivity solutions.
In this webinar GigaOm analyst Andrew Brust joins CData CMO Eric Madariaga and CData CTO Tomas Restrepo to discuss:
Why the tried-and-true paradigm of tabular data can tame the multi-structured data integration challenge.
What a data API is, and how it transcends product-specific APIs for analytics workloads.
How a smart data access strategy affects analytics performance and corporate agility.
Free Webinar
!-- REQUEST QUOTE FORM -->