<! -- REQUIRED PAGE WRAPPER --><! -- BEGIN [CONTENT] -->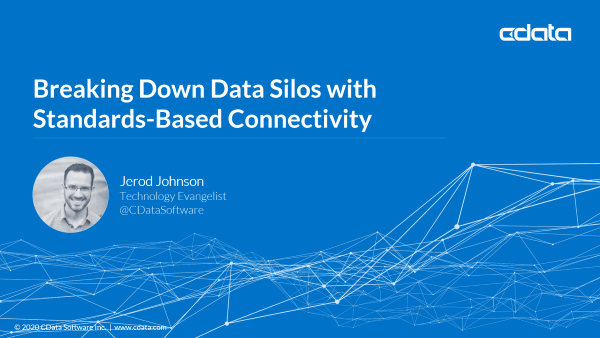 Breaking Down Data Silos
FREE WEBINAR (ON-DEMAND)
In today's cloud-first environment, the challenges of mass data fragmentation and siloed data systems affect every modern business. Successful organizations must adopt a data access strategy that can adapt to the growing complexity of diverse and dispersed data to unlock business value.
Standards-based connectivity through SQL helps overcome the challenges of distributed data -- simplifying connectivity across a broad range of data management applications, including BI & Analytics, Data Pipelines, Data Integration, Governance, and Application development.
Overcoming Data Fragmentation Challenges with SQL
In this webinar, join Jerod Johnson, Technology Evangelist for CData Software, as he discusses the latest trends in data fragmentation and the role that standards-based connectivity plays in Enterprise digital transformation.
In this 30-minute webinar, you will discover:
How cloud-first environments present challenges of data fragmentation and silos
How SQL provides standards-based connectivity for reliable integration
CData use cases for apps, analytics and data pipelines