<! -- REQUIRED PAGE WRAPPER --><! -- BEGIN [CONTENT] -->
Import and Visualize Sage 50 UK Data in Power View
---
Create data visualizations based on Sage 50 UK data in Excel.
You can use the built-in ODBC support in Excel to rapidly create Power View reports featuring Sage 50 UK data. This article shows how to use the Data Connection Wizard, accessible from the Data ribbon, to import Sage 50 UK data into a Power View report.
Connect to Sage 50 UK as an ODBC Data Source
If you have not already, first specify connection properties in an ODBC DSN (data source name). This is the last step of the driver installation. You can use the Microsoft ODBC Data Source Administrator to create and configure ODBC DSNs.
Note: Only Sage 50 UK 2012 and above are supported.
The User and Password properties, under the Connection section, must be set to valid Sage 50 UK user credentials. These values will be the same used to log in to the Sage 50 UK software.
Additionally, the URL property, under the Connection section, will need to be set to the address of the company dataset desired. To obtain the address, do the following:
If you have not already done so, open the Sage 50 UK software.
Click Tools -> Internet Options.
Select the SData Settings tab.
Click the Details button next to Sage 50 Accounts. A window is displayed containing a list of company names along with the address to their corresponding datasets.
Set the URL property to the value in the address field next to the company desired.
When you configure the DSN, you may also want to set the Max Rows connection property. This will limit the number of rows returned, which is especially helpful for improving performance when designing reports and visualizations.
Connect with the Data Connection Wizard
Follow the steps below to connect to the DSN from the Data Connection Wizard in Excel.
On the Data tab, click From Other Sources -> From Data Connection Wizard.
In the Data Connection Wizard, select the ODBC DSN option.
Select the ODBC DSN for Sage 50 UK from the list.

Select the tables you want to work with.

If you want to import multiple tables, deselect the "Connect to a specific table" option. After you connect to the data source, you can select multiple tables: After you click Finish to close the Data Connection Wizard, select the "Enable selection of multiple tables" option in the Select Table dialog.

In the Import Data dialog, select the destination for your data. For example, select the Table option and the Existing worksheet option. Then click the cell in your worksheet where results should be output.
Click Insert -> Power View to create a new Power View report.
Create a Table
Tables are the starting point for charts and other representations of your data. To create a table, select a column in the field list. You can also drag and drop table names and column names onto the view.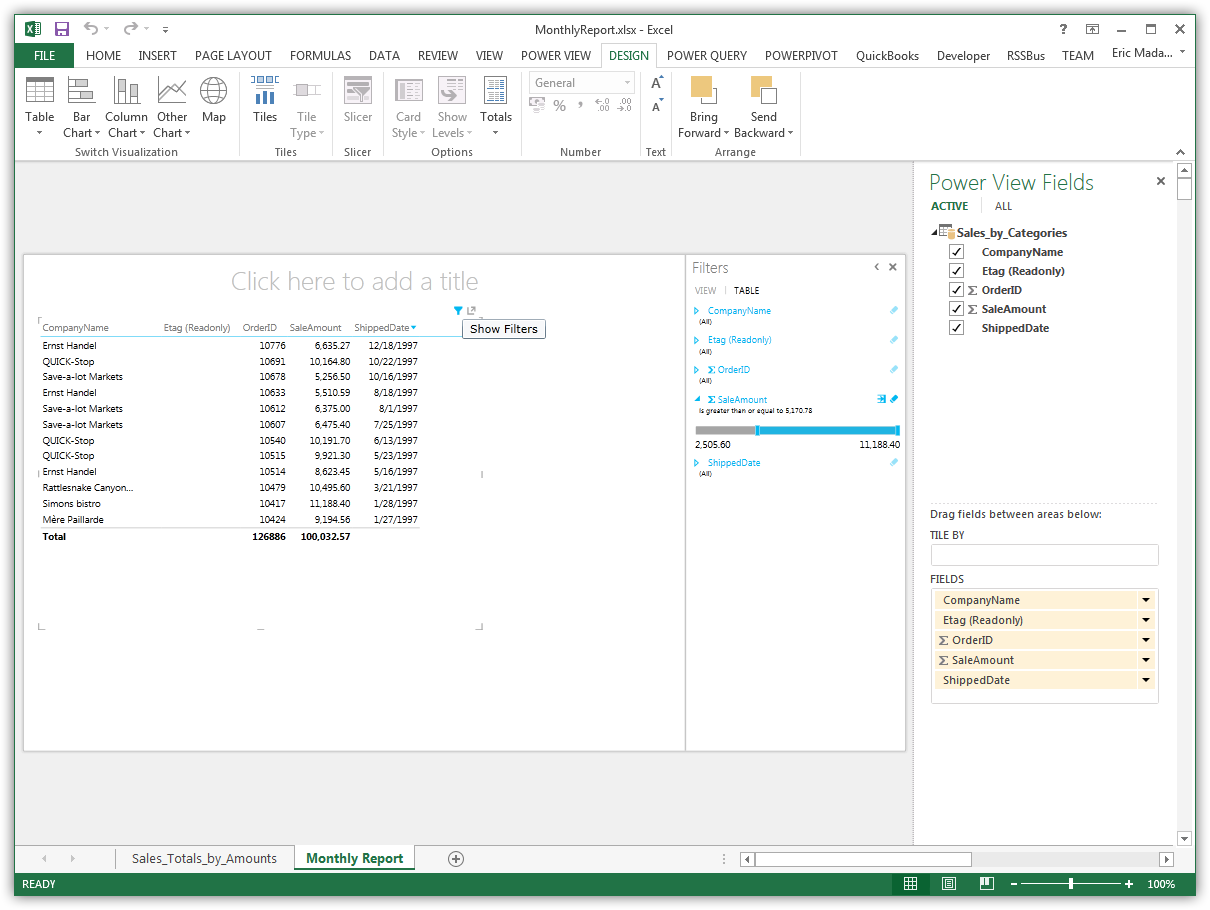 Create Data Visualizations
On the Design tab, you can change tables into charts and other visualizations.