<! -- REQUIRED PAGE WRAPPER --><! -- BEGIN [CONTENT] -->
Build Custom Drivers for Any Data Source
Build industry-standard, high-performance ODBC, JDBC, and ADO.NET drivers for any application, database, or service. Leverage the same proven SQL engine that powers some of the leading BI, ETL, Data Warehousing, and Data Virtualization tools to build custom drivers for your data.
Get the SDK
SQL APIs for Your Data
Deliver Custom ODBC, JDBC, and ADO.NET drivers for any data source.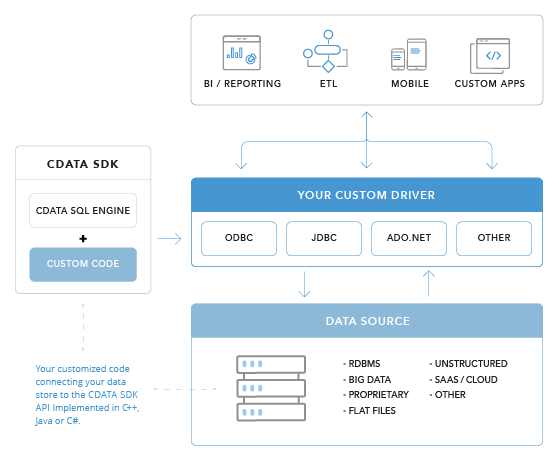 Build Industry-Standard, High-Performance Drivers for Data Connectivity
Unlock the world of BI, Analytics, ETL, and Reporting integration by offering users access to your platform and API data through standard database driver technologies like ODBC, JDBC, and ADO.NET.
A powerful toolkit for standards-based driver development.
Rapidly deliver drivers for any data source: NoSQL, SaaS, relational, or proprietary.
Enable real-time access to any data with full read/write/update/delete.

Fastest Time to Market
Easy-to-use SDK enables developers to build standards-based drivers in record time.

Powerful SQL Engine
ANSI SQL-92 compliant. Deep query normalization: support for complex queries, filters, & formulas.

Extensive Technology Support
Support for the latest driver standards including ODBC 3.8, JDBC 4.0, ADO.NET 2.0, and more.

Proven Connectivity
Customers like Cisco, Adeptia, Sisense, and Logi Analytics embed CData SDK powered drivers.
Get the CData Driver SDK
Ready to get started? Contact us for access to the SDK.
We're here to help. Let our expert engineering team help you with your driver development project. Having delivered for more than 200+ data sources, across a wide range of driver technologies, our team will help you make the most of your driver development investment.
Get the SDK