CData Arc Offers New Connectivity with NetSuite and QuickBooks Online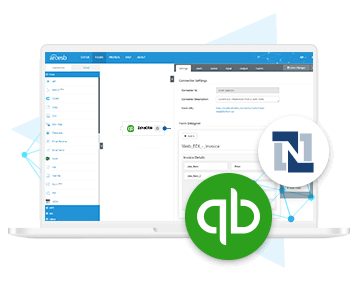 CData is excited to introduce our newest QuickBooks Online and NetSuite connectors for CData Arc.
QuickBooks and NetSuite are top providers of digital accounting solutions across the globe. With the addition of these key accounting players in our growing catalog of integrations, CData aims to expand our offerings in the accounting space and connect even more of your financial data for seamless, silo-free workflows.
"By expanding CData Arc capabilities to these accounting platforms, we bring more flexibility to our customers who want to leverage Electronic Data Interchange (EDI) and Managed File Transfer (MFT) capabilities between their trading partner networks and their accounting solutions,"
- Raunak Bhojwani, CData Arc Product Manager.
Connect, unite, and democratize data flows
Since accounting teams know your workflows best, CData Arc allows you to take direct control of your own data flow. CData Arc connects QuickBooks Online and NetSuite into your preferred reporting and payment tools — fully managed, with no ongoing IT programming or scripting needed. Our no-code, visual interface makes it easy for non-technical users to simply drag a connector onto the CData Arc design palette, give it a name, and connect to your data.
Our new connectors for QuickBooks Online and NetSuite allow you to gain easy access to accounting and financial data, reduce manual data entry steps, accelerate payments, and secure your sensitive data.
Take action with NetSuite and QuickBooks Online
CData Arc offers five primary ways to interact with NetSuite and QuickBooks Online data. We've also added additional functionality for NetSuite to streamline payments processing.
1. Inserts and updates
If a record or table already exists in NetSuite or QuickBooks Online, CData Arc can perform an update to those values inside the target or source tables directly within the tool.
2. Lookup
The lookup action retrieves a value from NetSuite or QuickBooks Online and inserts that value into an existing CData Arc message flow.
3. Select
The select action retrieves data from QuickBooks Online or NetSuite and brings it into CData Arc for transportation across other applications, targets, or source systems. CData Arc supports simple and advanced filtering, along with aggregation.
Filtering: Robust filtering capabilities allow users to choose which data from a selected action continues in the workflow.
Group filtering: To refine filter requirements, users can create a group filter based on rule types.
XML aggregation: Some columns appear in the NetSuite and QuickBooks Online connectors with the XML aggregate icon </> next to their names. In contrast to a standard single-element column, an aggregate column contains a collection of entities. CData Arc provides visibility into the aggregate column, allowing users to leverage the column within their data flow.
4. Execute stored procedures
The execute stored procedures action treats data coming into NetSuite or QuickBooks Online as an input for a stored procedure. It then executes the procedure and passes the result down the flow (if applicable.) The result of the stored procedure is easily located and recalled for use as inputs into the CData Arc source tree.
5. Advanced data connectivity features
CData Arc provides an array of advanced options to meet more complex data connectivity requirements. These include:
XML modeling support: These connector establishes a connection between XML elements and QuickBooks Online or NetSuite values, allowing CData Arc to read values from incoming XML documents and use them to insert or update queries.
Batch inputting and outputting: The batching feature improves performance when inserting large sets of data. When querying for output, the connector may be configured to support batching records within a single document.
Child table interactions: CData Arc can select, filter, update, and insert data to and from child tables inside of NetSuite and QuickBooks Online as part of the data flow.
Exclusively process new or updated data: CData Arc can be configured to only retrieve records that have been updated or added recently, ensuring that the latest data is used bi-directionally between QuickBooks Online or NetSuite and downstream systems and business processes.
6. End-to-end electronic payments with NetSuite
CData Arc also offers a NetSuite Payment Connector for timely and transparent payment distributions via a single, secure, end-to-end payment processing flow. The Payment Connector packages NetSuite payment data — such as the credit card number and transaction amount — into a secure web request to be processed via five available gateways.
The available payment gateways currently include Authorize.NET, Stripe, Cyber Source, Chase Paymentech Orbital, and Payeezy.
Integrate with CData Arc today
Whether you're leveraging QuickBooks Online in the small business space or managing your enterprise accounting processes with NetSuite, CData ensures your data is always accessible and actionable.
As Raunak notes, "We feel these connectors will streamline the way companies do business today by facilitating supply chain and ERP solutions together to promote timely invoicing and procurement processes."
If you're new to CData Arc and would like to see what your team can accomplish, begin your free 30-day trial with a quick download today.