<! -- REQUIRED PAGE WRAPPER --><! -- BEGIN [CONTENT] -->
Hybrid Cloud Adoption Delivers Key Business Benefits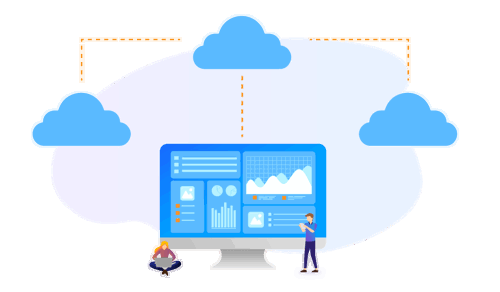 Data is growing in both volume and importance in the business landscape today. IDC forecasts new data creation to grow at a compound annual growth rate (CAGR) of 23%, resulting in approximately 175 zettabytes (ZB) of data created by 2025. Think about that. According to some estimates, one petabyte of digital data is equivalent to 20 million very tall filing cabinets, or 500 billion printed pages. One zettabyte is a million petabytes! Mind-boggling.
This growth in data has challenged the capacity of IT teams to manage it. What makes the situation even more problematic is that data often doesn't have value until is actionable. This means it needs to be connected across the organization, stored in a central repository, and analyzed in a reporting platform.
Most often, the expertise of technical staff can't scale to the meet changing needs of their organization's tech stack. It becomes too much for IT teams to handle when they need to replicate and move data from a myriad of sources, help business stakeholders access it for different analytics initiatives, and regularly maintain complex data pipelines. To meet these business demands and enable self-service, IT teams must move data to the cloud to make it easy for stakeholders to access the data themselves.
Why So Many Companies Adopt a Hybrid Cloud
A hybrid cloud combines public and private cloud services and creates a more flexible and powerful cloud. It's an ideal approach for companies that want to leverage the scale and security of a public cloud, while maintaining sensitive or customer-related data on-premises.
The need to comply with regulatory mandates, such as GDPR and the California Consumer Privacy Act, directs many companies to secure data on-prem. In these situations and others, a hybrid cloud offers the most flexible and expedient cloud architecture.
Although the path to hybrid cloud adoption is different for every company, the journey empowers enterprises on many levels:
Modernize at your own pace: Enterprises can migrate applications to the cloud and transform their technical infrastructure over time and according to their own needs.
Maintain regulatory compliance: Many industries, such as financial services and life sciences, are highly regulated. Companies in these industries must comply with mandates that require the secure handling of Personally Identifiable Information (PII) on-premises. A hybrid cloud provides a means to adhere to these and other mandates, such as HIPAA, GDPR, and PCI DSS, while harnessing the power of the cloud for alternate workloads.
Run regulated or legacy applications on-premises: Some companies may use regulated applications that need to remain on-premises or mainframes that are both difficult and resource-intensive to move to the cloud. 
Deploy applications at the edge: Some industries, such as retail and telecommunications need edge hybrid computing for low latency. A hybrid cloud approaches allow them to run select applications at the edge.
Hybrid Cloud Flexibility Delivers Key Benefits
It's really not surprising that hybrid cloud is so popular. Due to inherently flexible architectures, hybrid clouds help enterprises leverage the benefits of both public and private cloud, while allowing companies to design a cloud strategy that incorporates tools that best fit their specific business requirements.
Businesses embrace hybrid cloud for many reasons. Their need to select the most optimal environment to process their workloads is a key driver; evaluating the implications of regional compliance, data security, and performance presents a slew of potential pitfalls in any implementation. Because deciding what platforms to incorporate into any hybrid cloud implementation has broad implications, enterprises consider many factors:
Scalability: With hybrid cloud, businesses can scale their IT resources more efficiently, relying on public cloud services for additional capacity during peak times, while still maintaining certain workloads on-premises.
Flexibility: In a hybrid cloud environment, organizations choose the best "cloud" to process specific workloads. Applications that require high security, compliance, or data sovereignty can remain on private cloud infrastructure, while less sensitive workloads can be processed on the public cloud.
Cost efficiency: Hybrid cloud offers a cost-effective way to scale operations to meet spikes in demand, offering a great strategy to accommodate long-term growth.
Performance: A shift to the public cloud commonly improves cost and performance across analytics and reporting, particularly when consolidating data into a cloud data warehouse or data lake. 
Disaster recovery: In a hybrid cloud, companies are replicating their data across multiple cloud environments, providing multiple avenues for backing up data and offering the flexibility to improve disaster recovery capabilities.
Increased agility: The ability to navigate and respond to changing business needs is a critical capability in today's digital economy. Being able to spin up new resources quickly in the public cloud for new initiatives or short-term projects helps companies remain nimble.
Innovation: Technology changes every day. Using hybrid cloud, companies can take advantage of the latest cloud innovations, while still maintaining vital business processes with legacy systems on-premises in a private cloud.
The CData Difference
The hybrid cloud is a common model in cloud implementations worldwide. When businesses implement a hybrid cloud properly, they can improve business agility, performance, operational resilience, and security. CData Sync is a powerful, user-friendly data integration solution that can help businesses with their hybrid cloud implementation.
Using CData Sync, users can quickly integrate and consolidate organizational data from any source, cloud application, or on-premises system and leverage that data for reporting, operational excellence, customer success, and other important business initiatives. 
Need an agnostic data integration tool to build data pipelines easily? Try CData Sync for free.