<! -- REQUIRED PAGE WRAPPER --><! -- BEGIN [CONTENT] -->
Hybrid Cloud Migration Made Simple with CData Sync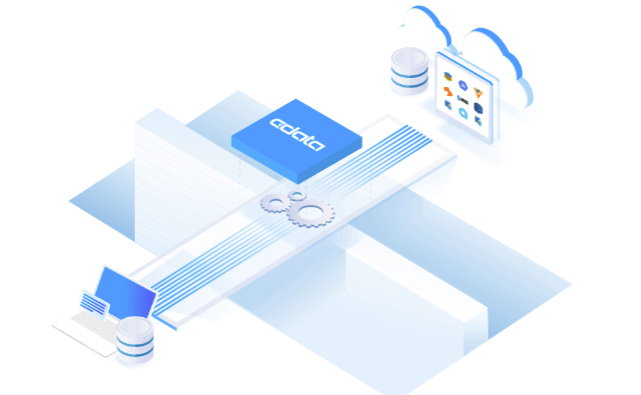 While there is no single definition of a hybrid environment, the term refers to some mix of private cloud, public cloud, and on-premises data storage & IT systems. According to a recent survey conducted by Everest Group, 72% of businesses described their cloud strategy as hybrid first.
Despite the many opportunities afforded by cloud data systems and SaaS applications, many organizations turn to a hybrid environment to comply with data privacy regulations and secure their data. But often these organizations face challenges managing connectivity across corporate firewalls, making hybrid data integration a stumbling block to digital transformation.
Modern firewalls are designed to prevent external access to internal resources. As firewalls block inbound requests, most cloud-based integration solutions are simply unable to move data between cloud and on-premises systems without extensive security protocols in place that are cumbersome to upkeep. These include firewall rules, complex tunneling logic, a VPN connection, and/or the installation of an agent inside the firewall.
Most integration tools do not allow organizations to securely control and granularly specify which data they transfer. Cloud solutions do not allow organizations to move data outside the firewall selectively – they use a traditional ELT strategy that extracts data, loads it all into a data warehouse, and then transforms the data as needed.
Hybrid Cloud Migration with CData Sync
CData Sync, on the other hand, is a location-agnostic data integration solution that offers a secure and easy way to build data pipelines from cloud to on-premises storage locations, on-premises to cloud, or any combination that meets your needs.
For example, your organization can compile data from SQLServer or NetSuite into any cloud database like Snowflake or Azure SQL, or work with that data within another on-prem database such as PostgreSQL. As a lightweight ETL/ELT solution, CData Sync can be installed anywhere and automatically and intelligently migrate data from any data source to any data storage platform.
Monrovia Nursery Co. leverages CData Sync to consolidate their on-premises data within their new cloud ERP system for streamlined reporting and operations.
Solving Your Biggest Cloud Migration Challenges
CData Sync helps your organization traverse even the most prevalent cloud and hybrid cloud migration roadblocks to help your team manage its modern data management needs.
Fast Onboarding of Cloud Data
One of the most challenging aspects of moving to the cloud is transferring large volumes of on-premises data into the cloud. Many organizations approach this exercise piecemeal, taking chunks of data and uploading them to the cloud. This tactic is both time-consuming and labor-intensive.
CData Sync has a better option. Our High Availability feature allows users to spread data migration jobs across various Sync servers to expedite the onboarding of your cloud data. This removes the need for piecemeal ETL and provides a seamless and frictionless on-premises to cloud data migration process, regardless of data volume.
Change Data Capture (CDC)
Only leverage data movement resources when necessary. Many ETL/ELT solutions update bulk data repetitively, slowing down your systems and costing you extra in storage fees. CData Sync's Change Data Capture (CDC) feature prevents bulk updates, only moving the data that has changed recently, rather than moving a snapshot of the entire database. This allows you to keep track of all changes to your data and ensures that only current data is on-hand for your vital business processes and decisions.
Enterprise-Grade Security
Unlike other data integration solutions. With an unmatched breadth of connectivity to hundreds of data sources and databases, the pure data pipeline tool never sees or stores your data. Instead, it enables direct connections between your sources and target destinations. Additionally, CData Sync allows administrators to securely monitor data movement, with automatic alerts to any issues with their ETL process.
Control The Data You Move for Regulatory Compliance
CData Sync enables you to meet regulatory and security requirements for data movement by allowing you to perform complex ETL or ELT operations without creating any security vulnerabilities in your data pipeline. CData Sync can perform transformations before data is loaded into the data warehouse, which enables you to move only the data you wish to move outside the firewall.
Bridging the On-Premises/Cloud Divide with CData Sync
CData Sync solves your hybrid cloud migration challenges. Whether you need data that's on-prem to be in the cloud or vice versa, our modern data integration solution is for you. Simply install CData Sync wherever you need it – on-premises or in the cloud – without the help of IT, and you can move the desired data quickly and easily wherever you need it.
Watch this webinar to learn how our approach to data pipelines bridges the on-premises to cloud divide.
For more information, download a free trial of CData Sync or book a demo with our cloud migration specialists