<! -- REQUIRED PAGE WRAPPER --><! -- BEGIN [CONTENT] -->
Top 6 Trends in Cloud and Data Virtualization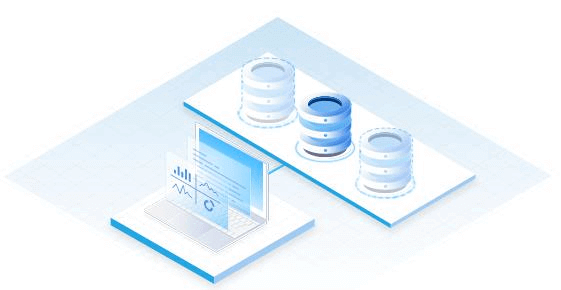 Cloud and data virtualization are top-of-mind for many organizations. The ongoing trends of affordable cloud computing and remote workforces mean more enterprises are turning to cloud virtualization than ever before. And the perpetual digital transformation means enterprise data is stored in more discrete locations than ever before, leading many businesses to turn to data virtualization as a solution.
In this article, we discuss some ongoing trends in cloud and data virtualization and highlight areas where the CData suite of connectivity solutions can help organizations manage and find value from their own virtualization efforts.
What is Data Virtualization?
When we talk about data virtualization, it's important to work from a set definition. For the context of our discussion here, we define data virtualization as a data management system that incorporates all an organization's data into a single platform, application, or system while leaving the data in place. Cloud virtualization is the same concept in the cloud – a connective tissue that bridges the gap between virtual production environments, virtual servers for data processing, and virtual data storage, all hosted in the cloud.
When it comes to cloud virtualization in today's ecosystem, we're seeing six trends come to the forefront:
Increased access to data across the organization,
Increased flexibility in virtualization hosting,
Wider integration of edge environments,
Improved security,
Increased responsiveness to customer needs,
And an increase in time spent on optimizing performance.
Increased Access to Data Across the Organization
As businesses move to the cloud, they face a unique but prevalent problem: data silos. Fortunately, data virtualization solves that problem. Technologies like CData Connect Cloud offer Data Connectivity as a Service, which provides a single point of connectivity, integration, and automation for all of an enterprise's data, no matter where that data is stored.
As easy-to-use, no-code data virtualization products like Connect Cloud emerge, it becomes easier for any stakeholder in a business to access and analyze their data, leading to increased self-service or citizen analysis of data. Gone are the days of needing IT to build and maintain a connection to data or a pipeline to move data into the warehouse.
Line-of-business users can use data virtualization to access exactly the data they want from the tools and applications they're already using. This ease of access through unified connectivity is CData's bread-and-butter. CData technologies make all data look the same, regardless of its source, providing out-of-the-box connectivity to data from any tool, application, or platform built to work with data.
Increased Flexibility in Virtualization Hosting
Between Microsoft Azure, Amazon Web Services, the Google Cloud Platform, and Oracle Cloud Infrastructure, customers are flush with choices in where they host their virtual infrastructure. And that doesn't even include the various container-based services and environments. Even within a given environment, there's flexibility in how the virtual infrastructure is configured.
With all these options for data virtualization, organizations are left wondering how to approach their data strategy. Do you create a data warehouse or a data lake? Do you provision a few high-performance virtual machines? Or do you provision many, lower-performing VMs and distribute your processing? Given this increased flexibility, organizations are free to choose the environment that best meets their needs.
Wider Integration of Edge Environments
Organizations are also seeing a wider adoption of edge computing. By distributing processing to the edge (closer to the original sources of data), organizations can use smaller scale virtual machines to process the data for any individual source of data (like a point-of-sale device or an internet-of-things peripheral).
By adopting edge virtualization, a business can use the same software regardless of the hardware used. A single virtualized data processing application (like an IoT management app or a PoS system) can be used to integrate with any number of devices, regardless of manufacturer. For example, manufacturing plants can host small servers to process and manage the data coming from their plants in the virtual environment closest to the physical location of each facility. Instead of investing in the creation, adoption, and maintenance of bespoke systems, IT teams can configure these virtual systems to work with any device in any environment.
Improved Security
Any time innovative technology is adopted, especially when it comes to critical, sensitive data hosting and processing, security is of the utmost importance. One feather in the proverbial hat of cloud virtualization is that most of the services are hosted by well-known and highly trusted providers (Microsoft, Google, Amazon, Oracle, etc.). By virtue of working with these trusted organizations, IT teams achieve a baseline level of confidence in the security of their data and applications.
From there, IT teams will look to the products and platforms they're working with to accommodate their security needs. CData provides a viable security solution with CData Connect Cloud. With the cloud-based data connectivity hub, IT teams can control access to all an organization's enterprise data at the user level, whether it's housed in a SaaS application or big data/NoSQL data store. Through CData Connect Cloud, IT can unite the bespoke security of known providers with centralized administration of users and connections.
Increased Responsiveness to Customer Needs
Another benefit to cloud virtualization is greater responsiveness to customers' needs when developing and maintaining cloud applications. When applications are hosted in the cloud, improvements and added features are made immediately available to every user of the platform, not just the customer that requested the change. And when development, staging, and production environments are all hosted in the cloud, developers can easily test features and even scale environments with less burden on IT resources – it's much easier to provision a virtual server in the cloud than it is to provision and configure a physical server.
CData embodies this trend, to the benefit of our customers. Any time a new feature, data source, or client integration is added to CData Connect Cloud, it is instantaneously available to all CData Connect Cloud customers. And because the tool is cloud-hosted, updates and hotfixes can be more rapidly implemented than with installed software.
Increase in Time Spent on Optimizing Performance
When machines can be provisioned with a few mouse clicks (instead of hours of physical setup followed by OS and software installation), IT can focus on optimizing the performance and availability of the organization's virtual architecture.
IT teams can monitor which VMs are using the most resources and adjust accordingly, whether that's by provisioning a "larger" machine or distributing several "small" machines to accomplish the same task. Organizations can also use discrete throttling to control virtual bandwidth, memory usage and disk usage to control costs.
Data virtualization trends are ever-evolving, as are the benefits of modern data connectivity solutions like CData Connect Cloud.
Wherever your data is and wherever you want to work with it, we're here to help. Get a free personalized demo from our team to learn how we can help you build your unique integration workflows.