Reflecting on CData Community Success in 2023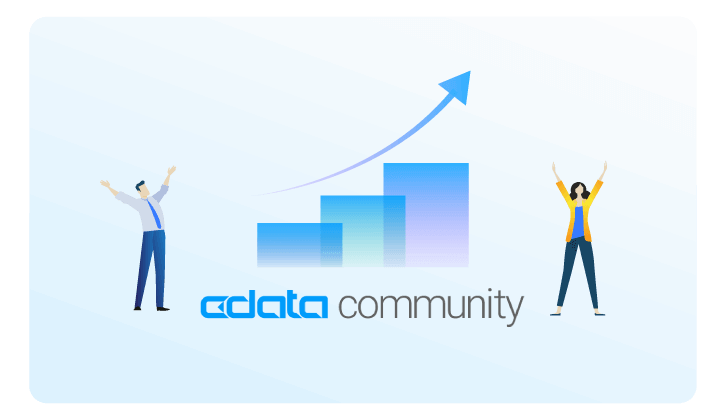 Since launching the CData Community in April this year, we've seen incredible success and engagement from our customers, partners, and employees. The site has become a helpful resource for users to interact, gain inspiration, and find support to better leverage CData products and connectivity solutions.
In this post, we're sharing some highlights from the CData Community in 2023. To make the community even more valuable in 2024, we encourage you to sign up and participate with our lively group.
About the CData Community
We launched the CData Community this year to bring together new and long-time CData users to share insights, ask for help, give advice, find resources, and get to know each other. Our community kicked off with a modest but enthusiastic bunch of members and has so far blossomed into a thriving network of hundreds of people. We anticipate many more joining the conversation before the year is out.
Sign up for the CData Community
CData Community Manager John Summers says it's not just about numbers; it's about meaningful engagement. John is dedicated to making the CData Community a place of collaboration and connection. He ensures that questions are answered in a timely manner by our Support and Product teams, and encourages users to answer questions themselves, as well.
Community members not only have a place where they can talk about our products; they also can suggest new features and improvements, get the latest information on product updates, and attend webinars and Ask Me Anything (AMA) sessions.
New insights come from our community
Did you know that knowledge base (KB) articles and product updates are often inspired by customer feedback? CData customers use our products day in and day out, and CData Community members are encouraged to share insights into our products. Receiving similar feedback from multiple community members indicates that there may be a trend. We're always publishing new KB articles and making product updates, so keep checking. If you can't find what you need, get quick answers by posting your question in the relevant community group.
Each user's use case with our products is different, even if they have similarities. There's always something new to be discovered, and our community members are always bringing something new to the table—from shortcuts and suggestions, to novel ways of thinking about the business challenge that needs solving.
In discovering more about how our customers use our products and hearing their feedback within the community, we've made improvements and added features to our products. We've recently added new community groups for more focused discussions and have plans to create even more programs that will help make the CData Community more engaging and rewarding.
Some recent topics posted on the CData Community include:
The CData Community is waiting
2023 has been a banner year for CData, and we could not have achieved the progress we have without our customers and partners. We encourage everyone to sign up and contribute to discussions that bring forth ideas, inspiration, and innovation. We have some exciting plans for the CData Community for 2024, so stay tuned!
Not a CData Community member yet? Sign up here!