<! -- REQUIRED PAGE WRAPPER --><! -- BEGIN [CONTENT] -->
4 Ways to Overcome Data Connectivity Challenges for Data Governance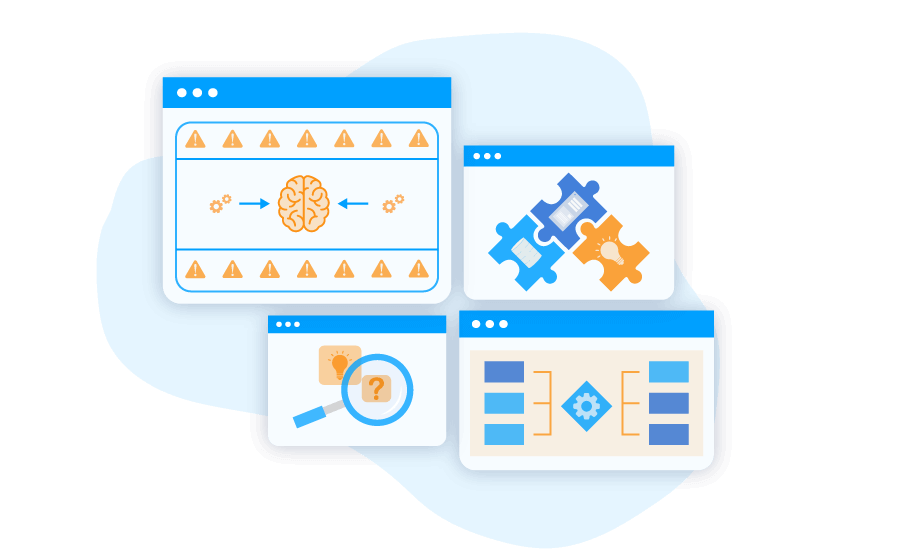 If you are using a data governance tool, you know that its value can be obstructed by a major roadblock: data silos. It all comes down to this: You can't govern what you don't have access to.
According to Better Cloud, there has been a 60% increase in the adoption of SaaS solutions since 2019 — with organizations on average using 130 SaaS apps. This is on top of the multiple on-premises applications and systems on which they already standardize. Each platform has different connectivity requirements and APIs that make it hard to standardize integration across the dozens of tools in use across your organization.
The result? Data governance efforts are perpetually in stasis — whether because IT needs to manually connect data sources via individual APIs or because legacy data pipeline solutions are difficult, costly, and time-consuming to manage and maintain. Instead of allowing data sprawl to undermine data governance, more intuitive, flexible data connectivity solutions can access all the data you want to govern.
Make Connectivity for Data Governance Easier
Connectivity solutions should enable you to flexibly work with data exactly how you choose – in the cloud or on-premises. Unfortunately, data connectivity tools don't always give you the necessary features to make governance workflows easier.
Your organization has an opportunity to introduce simple, flexible connectivity tools that open up new ways to govern data. Let's explore what you can accomplish with better data connectivity solutions.
1. Minimize Information Overload
Some data connectivity tools flood you with too much data and no way to easily filter specific tables and fields — while others do not expose the metadata needed to properly identify the data. Data-savvy organizations are instead leveraging intuitive data connectivity solutions that enable flexible use of metadata.
When your operations teams can expose and identify data down to the tables and fields, you can translate complex structures into usable features and functions.
2. Reduce Technical Skill Barriers to Connectivity
Keep in mind – not all data connectivity tools are created equal. If your "low code" data connectivity solution requires an advanced coding skillset, this can be more costly than manual coding for your team and your organization.
Instead, your data operations team can get data silos connected to your governance tool by introducing data drivers and connectors that are designed to:
Eliminate maintenance and required customization, and
Work effortlessly with non-databases sources.
For instance, a CData customer using an Informatica Enterprise Data Catalog needed to catalog data from Amazon DynamoDB. Fortunately, the CData DynamoDB Driver could bridge the gap by wrapping the APIs in a standard SQL layer
3. Leverage Smarter Queries
As organizations operate at a more rapid clip, data governance teams are opting out of data connectivity solutions that cannot effectively fetch fresh data at the pace of modern business.
Modernized connectivity providers instead feature optimizations that allow SQL-based data connectors to accomplish more, faster – giving employees real-time access to all of their data without the headache of storing and retrieving stale data.
Consider how a Workday customer wanted to extend the app's access to their customers from their data governance platform. The real-time CData Workday Driver made it easy for their IT team to pass the processing workload of Workday's complex queries onto Workday's servers for faster, seamless client-side workflows in their existing system.
4. Pair Tailored Solutions for an Exact Fit
If your data connectivity solution doesn't support the adapter technology you need, your governance strategy may be left lacking. As an example, your data connectivity tool may work with ODBC but not JDBC. Today's governance teams are finding more success with data connectivity providers that offer decades of experience connecting ODBC, JDBC, ADO.Net, Python, Excel, SSIS, and more.
For instance, a CData Snowflake ADO.NET Driver 30-day trial allowed Office Depot to perform a successful Proof of Concept (POC) to convert existing SSAS cubes from SQL Server to Snowflake, and follow that connectivity solution up by cataloging this data for governance efforts. They can now connect Snowflake to the market's most popular data management and data governance tools.
Solving Connectivity Challenges for Data Governance with CData
Ultimately, technology solutions that offer flexible, real-time data connectivity can help your teams mobilize their data governance strategy, fast.
Fortunately, some of the largest names in the data governance market — Informatica, Collibra, Galvanize, and more — partner with CData to enable more customers like you with trusted real-time data connectivity solutions.
Want to learn how CData can connect your applications for a more effective data governance strategy? Download any of our 250+ CData Drivers today.