The CData Driver Advantage
Customers depend on real-time data analysis to deliver actionable insights and drive growth. Big Data has ushered in a new era of analytics and cognitive computing, and modern users demand that their applications retrieve and process massive data sets at speeds that were once inconceivable.
At CData, we invest heavily in making sure that our Drivers consistently outperform. Our drivers push the boundaries of data access, optimizing socket-level streaming and compression capabilities, and delivering truly exceptional data access.

Unmatched Performance
Our Drivers are fast - Really fast. In fact, over twice as fast as other Drivers

Connect with BI, ETL, & Reporting
Easily integrated with modern and legacy tools through ODBC, JDBC, ADO.NET, OData, etc.

Intelligent Mapping
Unlimited flexibility in mapping non-relational data structures to tabular data.
Read/Write/Update/Delete
Comprehensive support for CRUD operations across all supported data sources.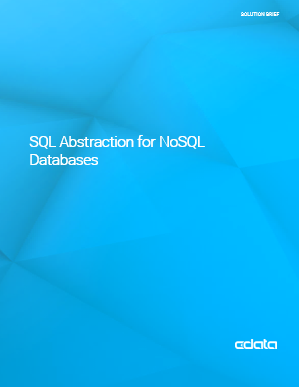 SQL Abstraction for NoSQL & Big Data
SQL-based drivers provide a powerful and ubiquitous bridge between NoSQL and both modern and legacy applications. Learn how our powerful ODBC, JDBC, and ADO.NET Drivers simplify and standardize the process or working with your data.
Download the Whitepaper