You Are Losing Customers to Missing Integrations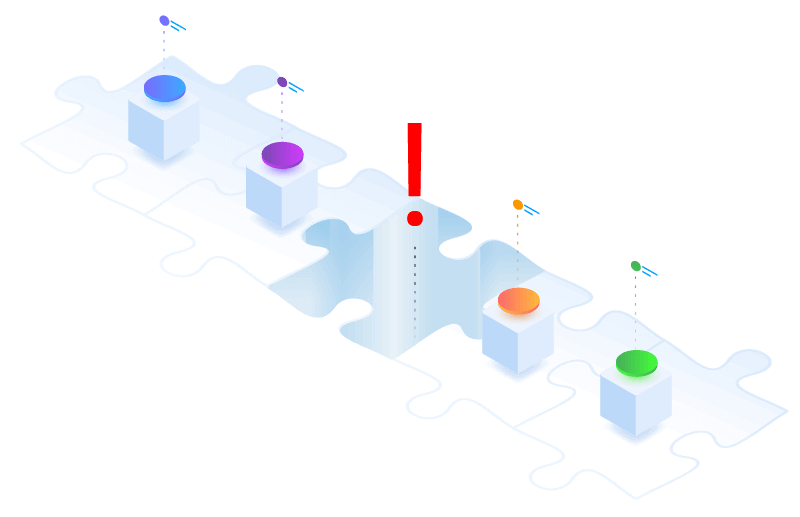 Are prospects telling you they're going with another solution with better integrations? Are you seeing higher customer churn rates than you'd like?
Solutions providers are in a race to level up their integrations as they compete for enterprise customers. Odds are, if you aren't offering native integrations, you're going to be left behind. In this article, we explore why integrations are critical to your business model.
Your Customers Have a Data Fragmentation Crisis
The average enterprise leverages more than 200 applications and generates more than a petabyte of data per year. As a result, data silos are a major obstacle for 90 percent of enterprises, according to the Mulesoft 2021 connectivity benchmark report.
Enterprises want their solutions providers to help unify their data, rather than exacerbate their data silo problems. During product evaluations, most organizations now consider native integrations a core requirement for every solution they add to their sprawling IT ecosystems.
In response, solution providers are dramatically scaling up their integration capabilities. Today, the average public SaaS company provides hundreds of data integrations for customers to leverage natively in their platforms.
Enterprises Need Consistency to Solve Fragmentation
The good news? The challenge of data fragmentation plaguing organizations today is an opportunity for ISVs. As businesses look for solutions to stitch together their data management strategies, they are increasingly turning to logical data warehousing.
What is a logical data warehousing?
The logical data warehouse acts as a central home for customers and organizations to access, analyze, clean, visualize, or manage their data. In other words, it is a unified, standardized location where anyone can work with the data generated across hundreds of applications used by the organization.
By incorporating rich data connectivity across a multitude of data sources, you can ensure your platform has market differentiation. When your customers can easily leverage their data, they find more value in your services and develop loyalty to your brand.
APIs Aren't Enough - And IT Teams Won't Build the Integrations for You
Connectivity alone isn't enough if your customers can't use it.
Are you requiring your customers' overburdened IT teams to custom-code integrations? Your platform must look beyond simply supporting APIs and instead bring native connections to the customer. In short, your connectivity should:
Eliminate custom coding against APIs to bring data into your platform,
Save customers from waiting on IT teams to set up your tool with necessary integrations,
Provide simple data access to your customers' data through friendly, consistent UI,
And ultimately create a frictionless customer data experience.
Do You Have the Bases Covered?
It's time to ask some key questions about your product, such as:
Do you offer the basic integrations your existing customers expect?
Are you supporting connectivity to the most popular SaaS, database, and enterprise tools?
What does the timeline look like for your product team to add the integrations you need to attract, win, and retain customers?
Can you maintain these integrations without spending critical development budget on dedicated integration specialists?
Will placing focus on integration development detract from your core product roadmap?
Most ISVs have some basic integrations, with a few more on the horizon. However, it can be a tall task to obtain and maintain the breadth and richness of data connectivity necessary to become a competitive solution in today's tech market.
From Zero to 250 in Just Weeks
CData Software is changing the game for ISVs looking to improve their integration game. CData provides 250+ data connectors (and counting) for your business to easily license and drop right into your platform – creating a frictionless customer data experience in less than a month.
Your users will experience seamless integration with all the data sources that matter to them. All they have to do is open your application, log into their underlying data sources, and work with all their data directly from within your platform's interface.
CData connectivity is trusted by the biggest names in data and embedded into popular solutions such as Salesforce Tableau, Tibco, Oracle, Cisco, Couchbase, and more. Enable native integrations at scale, and boost sales with embedded CData connectivity.
Interested in embedding connectivity into your platform? Let's talk.